Spa
Spas Near Tucson & Phoenix

A Southwest Wellness Oasis

Relax at our 3,000-square-foot earth-inspired spa. Follow the scent of botanical oils, desert earth elements, and fragrant candles to a uniquely Arizona experience. Rest in the relaxation room, rehydrate in the Eucalyptus steam room, or connect with nature in our verdant courtyard.

Hours of Operation
Thursday - Monday,  9:00 am - 5:00 pm


Telephone
520-398-3545
Spa Retail
Your Gateway To Relaxation
Pamper yourself with botanically-derived beauty and body products at our on-site store featuring the essentials for a blissful stay. 
Aveda
Eminence
Alo
Johnny Was
Anju
Jane Iredale
Clara Sun Woo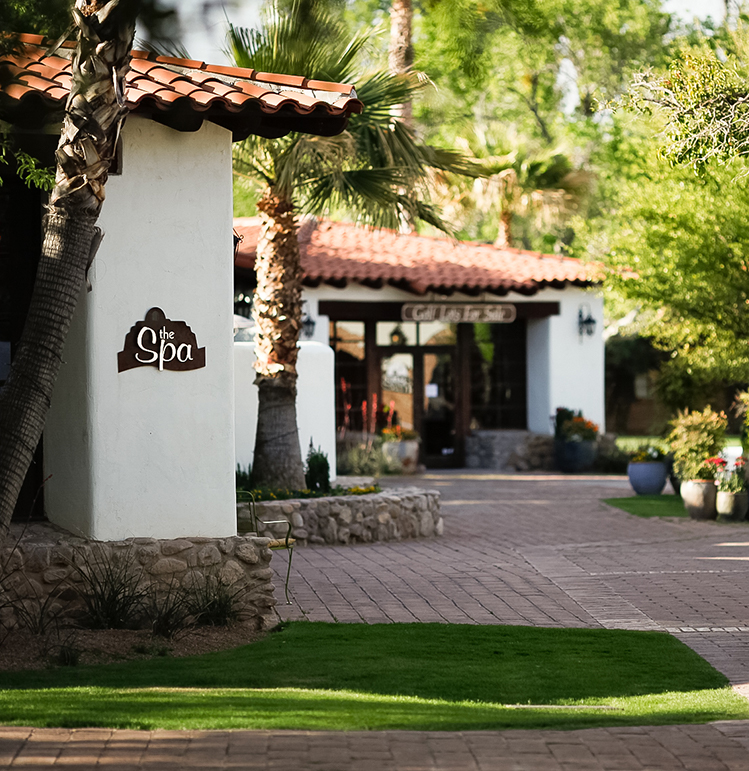 Tubac Essential
50 min $116
80 min $151

A soothing Swedish massage with unscented oil-customized just for you and enhanced with steamed towels and heat packs.
Aroma Essence
50 min $131
80 min $171

Full body dry-brushing is followed by a customized massage with your chosen essential oil blend.
Spanish Sage Sports
50 min $131
80 min $171

Arnica, Sage, and Lavender oils revive stressed muscles with a combo of sports stretches, compressions and deep tissue work to restore vitality. Great for golfers, athletes, and weekend warriors.
Santa Rita Hot Stone
50 min $131
80 min $171

Smooth stones are warmed and combined with lavender and rosemary oils to penetrate heat deep into muscles, soothing the body for an enhanced sense of well-being.
Ranchers Deep Tissue Massage
50 min $131
80 min $171

Specialized techniques are used to access underlying, structural muscles, to facilitate ease in the functional muscles of the body. Trigger point holds release chronic tension arising from repetitive motion, stress or injury.
Hacienda Massage
50 min $131
80 min $171

Comforting warm oil massage soothes the nervous system, relieves fatigue and nourishes the body. Traditional Ayurvedic massage techniques combined with pure rose geranium, ylang-ylang and rosewood oils gently warm and calm the body/mind.
Lymphatic Massage
50 min $171
80 min. $231

This Lymphatic Massage manually pumps fluid into the lymphatic vessels while increasing circulation, reducing bloating and swelling, and helps support a healthy immune system.
Shiatsu Massage
50 min $166
80 min $206

Shiatsu is a Japanese massage translated into the words "finger pressure". Using similar points on the body's meridian channels as an acupuncturist yet without the needles, shiatsu can relax muscles and muscle groups throughout the body with little to no pressure. Wonderful for people who are sore post workout, sensitive to pressure, prone to bruising, on blood thinners, have osteoporosis, or who respond well to touch.
CBD Massage
50 min $136
80 min $166

This high-quality oil will melt away aches, pains, and inflammation.
Craniosacral Therapy
50 min $166
80 min $206

Craniosacral Therapy works directly with the nervous system thru the cerebrospinal fluid, providing subtle pressure at various points on the body to release any stagnant fluid along the spine, sacrum and within the cranium, that can be creating disfunction throughout the body. Great for PTSD, physical or emotional trauma, post or pre-surgery, fibromyalgia, nervous disorders, inner spiritual guidance, and stress.
Mother-to-Be
50 min $116
80 min $151

With a blend of mother-and-baby safe organic oils to nourish the skin, this relaxing massage relieves body discomforts and stress, promoting deep breathing and comfort.
Duet Massage
50 min
80 min

Select the perfect massage for you and a companion and enjoy them side-by-side in our beautiful Duet Massage room.
Reflexology
25 min $76
50 min $116

Application of pressure to reflexology points relieves tension, improves circulation, and enhances functions of the body.
Express Focus
25 min $76

Short on time? 25 minutes of specific massage focus bring relief to target stress or tension areas.
Warm Oil Scalp Massage
25 min $76

Warm Argan oil is blissfully massaged into the hair and scalp. For best results, please plan to leave the oil in for at least 1-3 hours prior to shampooing.
Herbal Wrap (Add-On)
25 min $71

Steamy wrap of Detox herbs.
Foot Refresher (Add-On)
25 min $71

Peppermint or Lavender Scrub and hydration.
Turquoise Sage Body Polish
50min $126
80 min $156

Desert salts and jojoba oil scented with Sage, Mint and Lavender oils purify and exfoliate the skin. A Vichy shower exfoliation and moisturizing drench of jojoba body butter is massaged into the body for restored radiance.
Sacred Clay Rescue Body Treatment
50 min. $131
80 min. $161

This unique Body Treatment creates balance from within using coastal herbs and clay that will carry away layers of stress and fatigue from head to toe. This treatment includes a magnesium infused mask to help reduce cramping and boost energy.
Prickly Pear Body Treatment
50 min. $121
80 min. $151

A deeply hydrating Prickly Pear Body Treatment that has anti-aging properties refining the skin and uplifting mood.
Hacienda Embrace
50 min $126
80 min $156

Vichy exfoliation features a gentle glaze of sugar and Arizona jojoba wax scented with Rose Geranium. Deeply hydrating Moroccan Rose, Vlang and Patchouli body butter moisturize and restore.
Mesquite Vichy Infusion
50 min $126
80 min $156

Oat and rice flour, cornmeal, Mesquite bean extract, and herbs exfoliate, desert Aloe soothes and calms the skin. A Vichy rinse is followed by Orange Blossom and Calendula lotion massage to nourish and promote well-being.
Herbal Detox Wrap
50 min $126

Detoxify with the help of wild herbs. An exfoliating body brush is followed by a full-body application of detoxifying essential oils. A steamy herbal-steeped wrap promotes warmth for further detox.
Tubac Aroma Facial
50 min $116
80 min $146

A European style facial enhanced with essential oils for your skin type. This experience includes a cleanse, gentle exfoliation, aromatic massage, mask, and moisturizer for nourished skin.
Power Repair for Anti-Aging
50 min $131
80 min $156

This powerful treatment features potent anti-aging serums to replenish the skin and address challenges such as fine lines, dehydration, enlarged pores and lack of elasticity.
Orange Blossom-Vitamin C
50 min $121
80 min $156

This luxury facial provides treatment for dull and dehydrated skin. High potency Vitamin C leaves skin firmer, brighter, and rejuvenated. Great for sun-damaged skin.
CBD Facial
50 min $136
80 min $166

This unique facial uses high-quality CBD oil to promote nourished and hydrated skin.
Sonoran Soother
50 min $121
80 min $156

Chamomile and Arnica soothe the skin, ease blotchiness, and reduce redness. An ideal treatment for sensitive skin as well as Couperose, Erythrose, and Rosacea conditions.
Micro-Retinol Facial
50 min $141
80 min $156

Amplify results and recapture radiance. This high performance treatment combines a deep cleansing, a potent yet gentle peel, and Micro-Retinol treatment to stimulate cellular growth for smoother, denser, and younger looking skin.
Fountain of Youth
50 min $131
80 min $156

Supercharged Marine Peptides for increased hydration and rejuvenation to revitalize the complexion.
Bright and Luminous
50 min $136
80 min 156

Licorice root will provide brightening and radiance while helping to even out skin tone. Brighten up with this nourishing facial that's gentle enough for a pre-event treatment. (80 minutes includes a firming mask over the Vitamin C amplule)
The Gemstone Facial
50 min $131
80 min $156
add on service $61

Our Gemstone Facial is designed to uplift your whole being from the inside out! Stimulate your senses and reveal balanced/energized skin with this unique facial made from natural gemstones – you'll see the transformation right before your eyes!
Microdermabrasion
50 min $171
80 min $231

A non-chemical and non-invasive spray of micro-crystals removes the outer layer of skin cells to promote smoother, younger, vibrant and healthier looking skin.
Tubac's Extreme Facial
80 min $290

This extreme facial is a deep exfoliation allowing maximum penetration of product using both dermaplaning, microdermabrasion and a peel! This facial is designed for immediate results!
Deplaning Facial
50 min $121
80 min $151
add on service $61

Gentlemen's Facial
50 min $116
80 min $156

Just for men, this facial includes deep cleansing, steaming, extractions, and a treatment mask to refine the pores, soothe sensitivity and hydrate the skin.
Express Focus Facial
25 min $76

Short on time, yet need a skin refresher? An exfoliating cleanse is followed by Green Tea, Chamomile, and Shea Butter layered with a soothing moisturizer.
Lip Treatment, Facial Enhancement
$21

Rich & nourish collagen.
Eye Treatment, Facial Enhancement
$21

Suppress fine lines, dark circles and puffiness.
Collagen Décolleté & Neck Lifter, Facial Enhancement
$26

For smoother skin.
Electro Therapy Add On
$65

Reduces acne/bacteria, shrinks pores, softens wrinkles/fine lines, reduces inflammation, tightens skin
Lash & Brow Tint, Facial Enhancement
15-25 min $36 & $41

Haircut Consultation
Complimentary

Gentlemen's Cut
$36 and up

Shampoo & Blow Dry
$41 and up

All Over Color
$76 and up

Color Re-Touch
$61 and up

Permanent Straightening
$301 and up

Partial Highlight & Lowlight
$96 and up

Partial Highlight
$91 and up

Full Highlight
$131 and up

Glossing Treatment Add-On, $20 and up
Full Highlight & Lowlight
$131 and up

Special Occasion Hair
$96 and up

Special Occasion Hair Under 12
$51 and up

Special Occasion "Curls Only"
$46 and up

Wash and "Curls Only"
$81 and up

Paraffin Hand or Feet
$21

Eyes Only (Lashes & Shadow)
$31

Beautiful Bride Package
$269

Includes:
Wedding Hair Trial, Makeup Trial, Wedding Day Hair Style, and Wedding Day Makeup.
Please allow 2.5 hours for the trial and 2 hours on your wedding day.
Wedding Make Up Trial
$41

Wedding Make-up Application
$56

Special Occasion Hair Style
$96 and up

Special Occasion Hair Under 12
$51 and up

Eyelash Application & Shadow
$31

Bridal Bliss Package
3 hours
$324

Includes:
80 min. Hacienda Body Polish
25 min. Express Facial
Spa Manicure & Express Pedicure
For the Groom Bridal Package
2 hours
$235

Includes:
50 min. Tubac Massage
25 min Express Facial
Spa Manicure
Together Forever
1.5 hours
$364

This is a 50-minute couples massage with lavender or peppermint foot refresher.